Street festival, great ska band, sun shining the fuck outtovit, lashing cans into plastic cups, good times…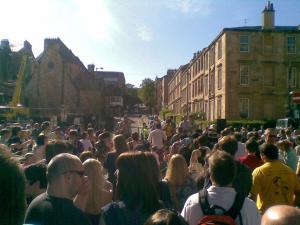 Gibson road street festival, part of the fortnight long West End Festival in Glasgow.
Glasgow in general? Great city, great vibe, beautiful buildings, a shite load of art n culture, and cheap as chips. Expect to pay £1.69 – £3.70 for a pint -it pays t shop around, but ya can still enjoy a swanky, snooty pint for only €4.60! Glaswegians can be fat bastards, enjoy shit like battered, deep=fried pizza. Haggis? You probly call it black pudding, but wouldn't eat it whole or battered and deep-fried, not too bad tho, had t try it.